How can we make food more accessible, affordable, healthier, sustainable and celebrated in Exeter?
That's the key question being asked by the city's voluntary, community and social enterprise sector (VCSE) and local food businesses.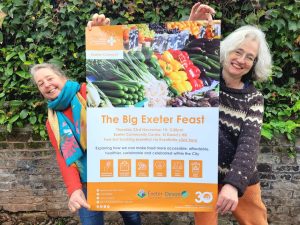 To enable the question to be explored, local charity, Exeter Community Initiatives' Exeter Connect project, is facilitating 'The Big Exeter Feast' conference on Thursday, 23 November at Exeter Community Centre.
The conference, which brings together the city's VCSE sector and local food businesses, will explore what an integrated and eco food system in Exeter might look like; and what partnerships and local groups and organisations can do to turn the vision into a reality.
With only 2% of locally grown food sold directly into Exeter and 35% more people using Exeter Food Bank than last year, there's never been a more urgent need to discuss the vision for Exeter's food future.
Topics up for debate include: the interconnectedness of Eating Well – including culture, education and community and access; Food Policy and Governance; Local Food Economy – including procurement, environmental and economic sustainability; Food Justice – fairness amid inequality and disadvantage; Food Waste; and Urban Growing in support of Exeter's 2030 net zero plan.
Leading up to the conference, between 13 November – 22 November, 11 events have been organised to showcase the wonderful initiatives of Exeter's VCSE sector and local food businesses, including:
Fieldtrips to Exeter's Community Fridge; St Thomas Community Garden and Exeter Food Action warehouse, which distributes in-date food to local food banks and community larders
Farm walk, talk and tractor/trailer ride at Shillingford Organic
Shared meal coordinated by Refugee Support Devon
Workshop on energy-saving insulation cooking through hayboxes and wonderbags
Walk, talk cook! with West Bank Community Health and Care
Pick and cook with St Sidwell's Community Centre and garden
Forum featuring local food producers and small farmers looking at what needs to happen to create a flourishing local food economy, including markets and local institutional procurement
The day of 'The Big Exeter Feast' conference itself will feature short presentations, stalls, pre-conference event displays, and a simple locally-sourced lunch. There will also be plenty of opportunity for networking.
ECI helps people in Exeter and the surrounding area to improve wellbeing and build skills, supports families facing challenges and hardships, and helps communities to thrive.
Laura Robinson, ECI's Community Action Manager, said: "ECI's Exeter Connect project is a voluntary and community sector support service providing advice, training, networking and events, so we are really excited to be organising this unique event on behalf of the VCSE sector and local businesses to explore what an integrated and eco food system in Exeter might look like and what partnerships could be formed to make it happen.
"Following the work done in other cities, towns and local authorities, such as Plymouth, there is a growing recognition of the need for a city food system in Exeter that works in partnership to make healthy and sustainable food a defining characteristic of where people live.
"I'm sure lots of amazing ideas will come out of the conference and I can't wait to hear them!"
The Big Exeter Feast conference and events are open to the public. The events are free unless otherwise stated.  For more information or to sign up visit www.eventbrite.co.uk/o/exeter-connect-31579051745 or call 01392 205800 or email exeterconnect@eci.org.uk